Paint from light to dark with watercolors and add detail with a pencil.
Typically, I spend way more time drawing or painting the background. No one is going to notice if a wall or some tree doesn't match the original — they're way more forgiving than a mouth or nose. Adding detail here instead of the face adds a sense of tension that I quite enjoy.
Whether I'm working on clouds, a landscape, or a face, I follow the same process:
Rough blobs of watercolor to define major shapes.
Layer shape after shape after shape with watercolor until dark and opaque.
Add detail with a pencil.
Layer even more watercolor strokes over the pencil.
Finish with the pencil to cleanup edges or apply highlights and shadows.
Ghost the Face
The background should be nice and heavy now. Using a white pencil, outline the face or blob it out with watercolor instead. On the rare chance the background is really light, use flesh tones (light brown/pink/orange) instead. The marker or fountain pen are appropriate for face lightening, but you can't layer them as much. Watercolor allows you to progressively lighten and soften edges, which helps enhance the realism.
A white mixed with a hint of orange or yellow works great too. Experiment with the amount of color you mix because if you add too much the opaque nature of white is removed and it won't "erase" the background beneath.
Build up the Face
The trick here is to gradually apply smooth layers of a light color using the watercolor brush. First few layers are to fill the entire face with whatever skin color you're trying to match. For areas that are in shadow, mix in a dull (almost gray) red or blue and then quickly paint half of the face. Shape really matters — if you don't get it right just two finger rewind and try again. Move fast and avoid lingering in one spot to keep your edges soft and avoid going too dark.
Pencil in Details
Same deal as the background, select the pencil tool and start refining edges that are deep in shadow (hair line, necks, clothing, etc). This will help tighten things up and fix the less than precise strokes of watercolor you laid down earlier.
Now is a great time to pencil in the hair, mustache, or beard whiskers using black as your base and a bright brown or yellow over the top. For a detailed Paper by 53 hair tutorial, check this out one time.
Imply Facial Features
To finish the face take care to observe the direction and tilt of the head. Carefully draw a line from the forehead down to where the lips should be, following the same curve of your subject. You could keep it really straight, but I find following this natural curve helps make it look more three-dimensional. For the horizontal line, make it eye to eye in length. A fun tip for exaggerating what a face might be looking at — extending the horizontal line off the face and into the background on one side.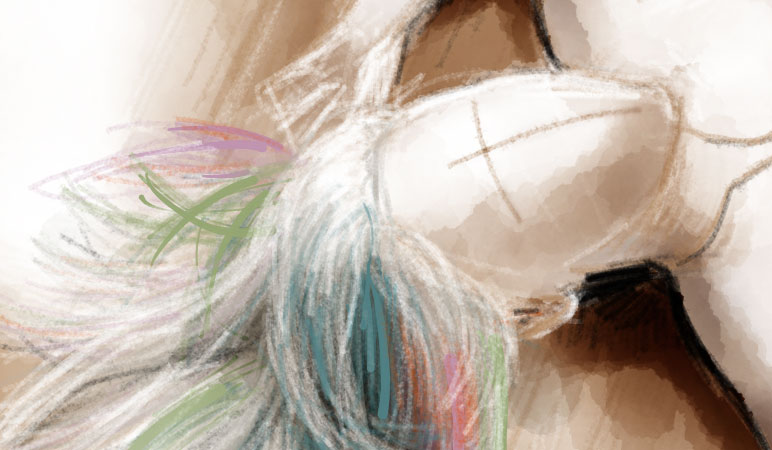 PS: I wrote another guide called Mastering Paper by 53, that expands on all these techniques in greater detail.
---