Feeling kinda stuck in a Half Nelson
My gosh! I ate a bowl of generic Honeycomb cereal for lunch and have been starving ever since. Completely devoured the large bucket at Dipson tonight and got a refill of my favorite popcorns before Half Nelson even started. Sometimes I wonder if all the old people sitting around me are super artsy and enjoy these films… or if they just live across from the theater and straggle in to take advantage of a senior citizens discount.
The reviews were fairly good for Half Nelson and I really enjoyed the feel of the website and trailer. Everything in this film seemed extremely subtle and understated to me. The typography used in the opening credits was made up of a serif typeface… all lowercase… white on black… very traditional with a hint of organic imperfection. Nothing too flashy. Just a story about an average guy smoking crack in the school he happens to be teaching at.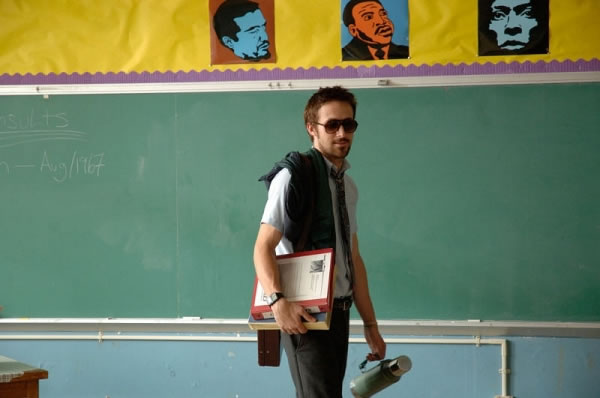 Overall the movie seemed to plateau about midway. The classroom scenes were all about opposing forces in history which was probably suppose to mirror Danny's (I think that was his name) life… if you want to over analyze… The conclusion was downplayed and I get why.
I guess I was just waiting for the big shocker or turning point to happen — but secretly sort of glad that event never happened. You could argue that one or two events might have been tha shockah… but it was so subdued that I hardly took notice.
I didn't hate it. I didn't love it. I'm sure glad I didn't see Ben and Matt's horror flick, Feast instead.