Pogo Connect stylus sensitivity fix
How to adjust the Pogo Connect's pressure sensitivity setting with firmware v1.1.0.
About a month ago I received a replacement Pogo Connect Smart Pen due to a defect that caused it to stop working. Using this replacement for a few days it was clear to me that something was different about this newer model.
I use Paper by FiftyThree exclusively for drawing with the occasional Procreate experiment. When using either app I noticed that the sensitivity of the Pogo's tip seemed off. To get the full range of stroke sizes I now had to press extremely hard to register a wide stroke (see screenshot below), which started to screw with how I draw.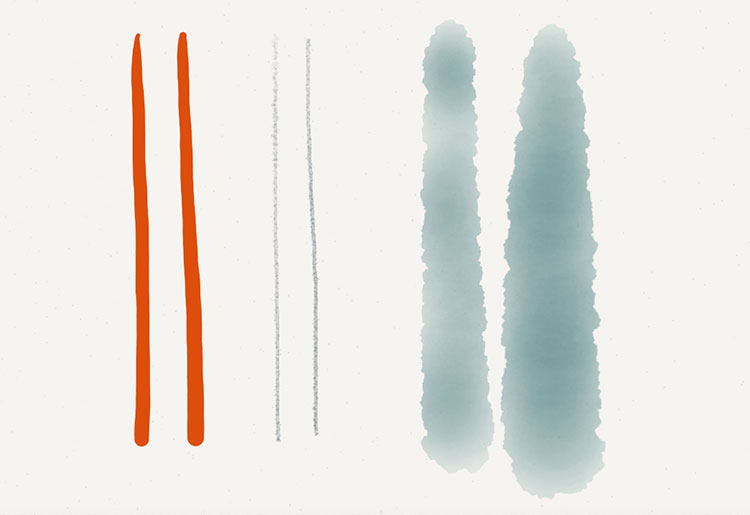 Isolating the cause is hard because so many factors had changed around the same time.
Apple released iOS 7, a major rewrite and update to the iPad's operating system.
TenOne Design updated the Pogo Connect's firmware to 1.1.0 — needed for some of the new tips they recently released.
Design changes were made to the Pogo Connect to reinforce the internals and tip.
From my tests it seems to be related to the 1.1.0 firmware or the extra solder being used to keep the tip from busting off. Older Pogo's with the 1.0.6 firmware worked fine with iOS 7 and updated apps.
To begin, open Paper by FiftyThree1 or your Pogo Connect supported app of choice, and press the button on the stylus to establish a connection.
Next you'll need to open (or download) the free Pogo Connect app. With it you can do fun stuff like locate your Pogo if it's lost somewhere in your house, update the firmware, rename your Pogo, draw, or adjust the tip's pressure sensitivity.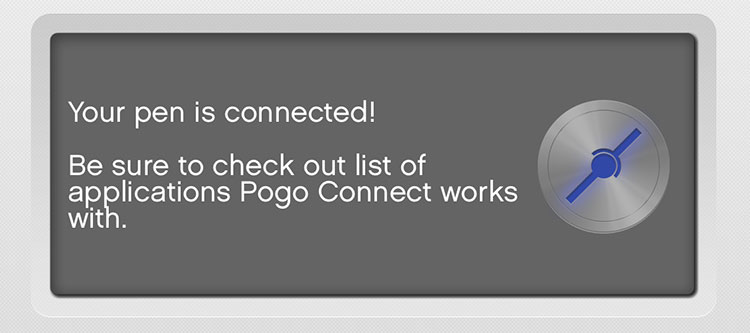 Upon opening the app you should notice it trying to connect to the stylus. When that completes, tap the Configuration tab at the bottom to customize the stylus to your liking. The two settings I altered to make it behave how it used to were Locator Beacon and Pressure Amount.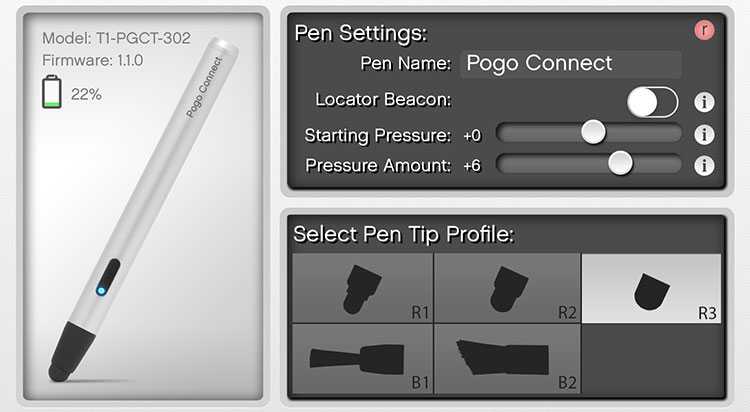 After making these changes you can doodle around in the space below to verify the sensitivity settings are to you liking. You can then switch back to Paper and the new settings should be noticeable in the app.
It's sort of a pain having to open another app each time I sit down to work on an illustration, but what can you do? I'm not entirely sure why the sensitivity settings don't persist when the stylus or app goes to sleep.
---
As of version 2.5 FiftyThree has dropped support for the Pogo Connect Smart Pen. ↩︎
8 mentions
much appreciate the in depth analysis! finally doing research myself upon receiving a 1.0.4 firmware pen. I wanted to exchange it for a 1.1 so I can upgrade to the latest 1.3.2 or so, but these articles make me think twice. strange that the sensitivity would be so drastically reduced, but it wonder if they've made any adjustments within the firmware upgrades to accommodate this prevalent problem.

If the sensitivity levels you set in the Pogo Connect app actually stuck and didn't need to be constantly refreshed it wouldn't be a problem. It appears anytime that app is in the background for a certain amount of time it goes to sleep and forgets the levels.

I'm guessing the default levels were reduced some to work better with the alternate tips that allow less sensitivity to adjust for note taking uses.

I finally have to join in here. First, I love this site and Micheal your work, explanations and such have been incredibly useful and inspiring.

I bought a Pogo Connect. I love the feel of it on screen, but I do not have any touch sensitivity in Paper. i am using an iPad Mini retina and I'm guessing that is part of the problem. But it works in Connect app, in Procreate and in Sketch, but not in Paper. Every time I go through the process above, Paper's watercolor brush gives me an 1/8 inch of finer line, then back to standard.

It's been tough following all the blogs and support reports to know where things stand… So, right now Feb11, 2014… is anyone getting the Pogo to work on a Mini Retina with PAPER?

P.S. my Pogo tip makes a little click when I use it, like the tip is clicking inside?"

Thanks Jim! This is a known problem, check out TenOne Design's blog for more detail.

The gist is Apple farted around with the technology behind their screens for the new iPad Air and Mini with retina, which caused the Pogo Connect to stop working.

TenOne Design has since released an update that partially supports these new screens, but it still has issues. I don't have a newer iPad so I can't verify any of this. My guess as to why it works in Procreate and the Pogo Connect app is because they're using TenOne Design's newer SDK and Paper hasn't updated to it yet.

Thanks for hosting this.

Have an iPad Air, and wanted to get a 'sensitive' stylus which my Pencil doesn't support (yet?) in Paper so I got a Pogo Connect used as I had known about limitations.

The odd thing to me at least is the ranging firmware versions for this model T1-PGCT-302 as reported by the Pogo app. Then I learned that there's a firmware upgrade, from 1.1.0 and beyond, to help address this. As while using the Pogo app the sensitivity appears to work as expected, I took this as good news that it's just a matter of time until 3rd party apps also pick up this support. But my stylus firmware was 1.0.1 and there's no upgrade path. I'm working with them in hopes towards an upgrade - they have good promotions IFF you've got purchase receipt of their item new which I'm hoping they'll transfer to me. Time will tell.

I should point out that several retailers are selling this pen somewhat discounted from list which leads me to think that there's inventory out there at earlier than 1.1.0 firmware, so if you're out there with a mini or full size Air and in the market for this pen - which btw is pretty nice, you might want to take a close look at potential unit's firmware — might be difficult to test until you receive one, to ensure you're not left behind

I went through a couple of Pogo's with the older 1.0.1 firmware. They kept replacing them for me free of charge because of a design flaw in the tip that broke inside.

This last Pogo I received appears to have fixed that and it has the newer 1.1.0 firmware. Weird thing is it's much less sensitive than before. Still not sure if it's the firmware or the extra soldering they applied inside to keep the tip from busting off.

I have seen things improve in 3rd party apps as they've updated to newer versions of the Pogo's SDK. But it's still a mess. I have to disconnect and reconnect all the time because it flakes out. When the pen works it's great, but it's so unreliable.